Cash register rolls – main activity.

We produce a wide range of paper rolls of cash registers, printers, plotters, fax machines and other equipment (we are leaders at producing thermal cash register tapes, since 1998).

We have many different types and sizes of cash register roll strips produced from a variety of paper: one layer, two layers (offset + SC SC + SC, CB + CF), thermal, etc.

The available equipment allows us to produce a variety of specifications for paper rolls according to each customer's requirements. We produce paper roll with the press and without it.

In USA, Japan, Italy - paper rolls without print, advertising or any other information on the back of the paper - rarity. In Lithuania, customers, product suppliers, advertising agencies and event organizers are just starting to discover this relatively cheap and often the most economic way of printed advertising.

UAB "INČAS" can help you become even more visible.
Copying (office) paper and other paper products.

For use in stationary stores, wholesalers, government organizations and offices. For your office needs for everyday use as well as presentations, we are able to offer copying (sheets and rolls) and special paper (colored, white paper for color copying, printing, photo paper, colored cardboard, adhesive, etc.).

UAB "INČAS" is importing and selling office paper products from manufacturers such as Portucel Soporcel (Portugal) - Inacopia 75-160 g/m2, Double A Public Company Limited - Double A Premium Quality (Q-Green) 80g/m2, white and colored and multi-purpose paper and cardboard, April Group (Indonesia) - Paperoni, Lazer IT - office paper, Papierfabrik Hainsberg GmbH - Lettura60, office paper made from 100% PCW (secondary raw-waste paper).

The main trading brands are:
Double A Premium, SMART Copy Eco, SMARTIST, QUALITY.
UAB "Inčas" is an official
Double A (1991) Public Co., Ltd
representative in Lithuania.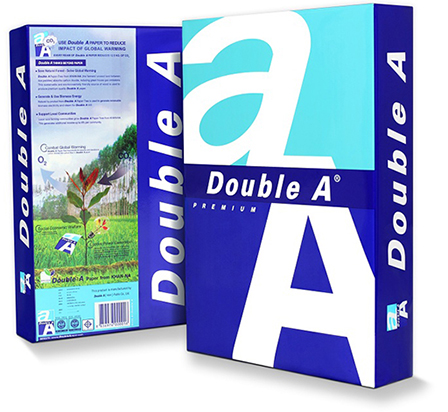 Accounting forms and journals.

Since 2010-2012 cash journals and other accounting forms production and trade has become one of the most important company activities. UAB "INČAS" is directly importing paper from manufacturers, so we can offer products at competitive prices.
Stationery, supplies and small equipment.

Envelopes perforated adhesive paper, adhesive labels, price markers and price labels, binders, cases, archive boxes, money detectors and so on. Goods for offices, shops or other companies, are supplied as an addition to customers who want with paper or cash register rolls get all the assortment for their daily actions.

Part of stationery product we manufacture ourselves, however most of the stationery product we import or acquisition from specialized companies operating in Lithuania. We have a complete range of well-needed assortment to offer for stores, gas stations, printers.
Industrial paper.

Packaging, kraft, puspergamentis paper in rolls and sheets for food, furniture and other industrial companies and large end-users.

UAB "INČAS" produce a variety of rolls according to customers' preferred formats, including the raw materials, non-standard size paper as well as the rarer types of paper.
Paper-cutting (conversion).

From our own or clients' paper, cardboard rolls or sheets of paper, UAB "INČAS" cuts into required size products. We rewind from large to smaller rolls. On the rollers, there is possible to print the necessary information, logo or advertisement.
Printing paper for printing and publishing houses.

Adhesive, self-copying, coated paper and cardboard sheets. Under the pre-orders, supplying other paper types, too.